About the Loesgen Lab
The Loesgen Lab uses a variety of state-of-the-art techniques to identify and develop drug leads from the metabolic products of microbial organisms, with a special emphasis on endophytic fungi and rare actinomycetes. Our research program currently focuses on the discovery of new anticancer, antimicrobial, and antiviral compounds from microbial sources.
Our multidisciplinary approach to biomedical research brings together students and researchers from diverse backgrounds, including pharmaceutical sciences, chemistry, biochemistry, molecular biology, and microbiology.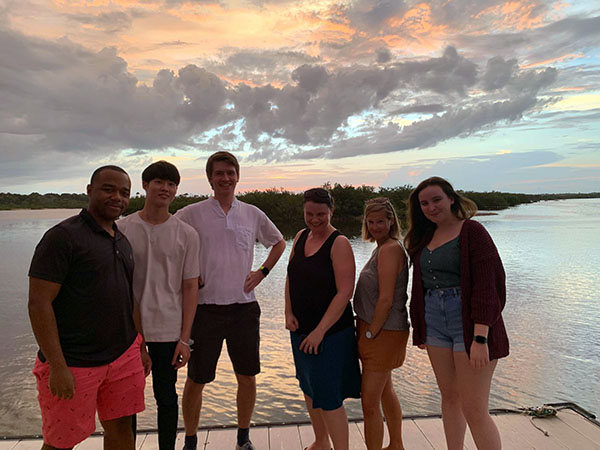 May 2017
Sandra Loesgen gives a seminar at the Goethe University in Frankfurt
March 2017
Sandra Loesgen gives an invited seminar at the 3rd Natural Products Fusion-Conference, Cancun Mexico.
February 2017
UG Molly Austin receives an URSA ENGAGE award and joins the Loesgen Lab. Welcome!
February 2017
Zoe Zhu and Donovon Adpressa present talks at the 2017 Volcano Conference. Paige Mandelare, Ross Overacker, George Neuhaus, and Zach Konkel present a poster.
July 2016
Donovon Adpressa receives a DOD Early Career Travel Awards to attend the annual meeting of the Society for Industrial Microbiology (SIMB) to give a talk and present a poster.
August 2016
Sandra Loesgen gives a seminar at the Technical University München (TUM)
August 2016
Sandra Loesgen gives a seminar at the Helmholtz Institut, München
July 2016
Ross Overacker, Cassie Lew, and Sandra Loesgen present posters at the Joint Natural Products Conference, Copenhagen, Denmark July 2016.
July 2016
Ross Overacker received the American Society of Pharmacognosy 2016 Lynn Brady Travel Award
June 2016
The Loesgen lab receives an Agilent 1260 Infinity Preparative HPLC. (Thanks to OSU's RERF funds).
May 2016
George Neuhaus receives the OMSI Science Communication Fellowship
May 2016
Paige Mandelare receives the Sonoma Mycological Society (SOMA) graduate student award and will give a lecture at monthly meeting in September 2017.
April 2016
Donovon Adpressa receives the Oregon State University CGRB Collaboration Catalyzer Award to work on epigenetic modulation in Fusarium with the Freitag Lab (OSU)
January 2016
Our collaborative NSF proposal IOS-1557804 with Virginia Weis (PI, OSU) and Tom Gilmore (BU) receives funding!
February 27, 2016
Undergraduate Cassie Lew receives a DAAD Rise fellowship to conduct research with Prof. Brakhage in Jena, Germany during Summer 2016 -- Congrats!
February 19-21, 2016
Birte Plitzko and Ross Overacker present talks at the 2016 Volcano Conference. Cassie Lew and Kayla Stalheim present a poster.