About the Loesgen Lab
The Loesgen Lab uses a variety of state-of-the-art techniques to identify and develop drug leads from the metabolic products of microbial organisms, with a special emphasis on endophytic fungi and rare actinomycetes. Our research program currently focuses on the discovery of new anticancer, antimicrobial, and antiviral compounds from microbial sources.
Our multidisciplinary approach to biomedical research brings together students and researchers from diverse backgrounds, including pharmaceutical sciences, chemistry, biochemistry, molecular biology, and microbiology.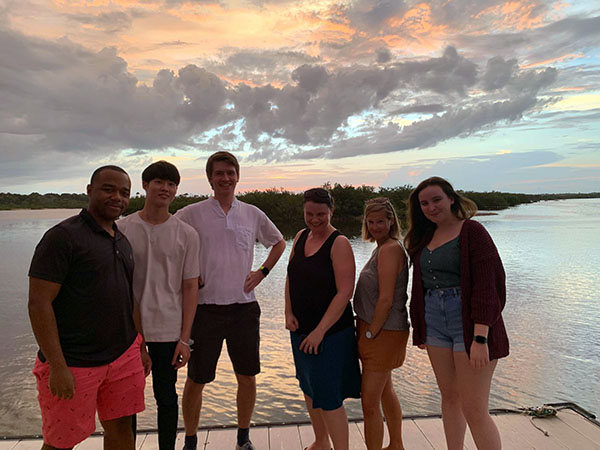 July 2021
NSF grant IOS 2124120 awarded to Weis and Loesgen. We will continue to study the cell biology of cnidarian-dinoflagellate symbiosis.
July 2021
Dr Annika Jagels presents a poster on new liopeptides at the virtual ASP vanguards of Natural Products Research Symposium.
July 2021
Postdoc Oh-Seok Kwon joins the Loesgen Lab !
June 2021
Congrats to Dr. Elizabeth N. Kaweesa for successfully defending her thesis, and starting a NIH IRACDA postdoc at the University of Chicago.
January 2021
New graduate student Erin Marshall and postdoc Mark McCauley join the Loesgen Lab
November 2020
Congrats to Dr. Paige Mandelare for successfully defending her thesis. Great job!
September 2020
Congrats to Dr. Annika Jagels for being awarded a prestigious 2 yr DFG fellowship. Well done!
August 2020
NSF grant EF-2025476 awarded to Loesgen, Weis, and Martindale to study the Cnidarian microbiome and chemistry!
July 2020
Article wins 2020 JNP Jack L. Beal award for best paper by a young investigator!
April 2020
Loesgen Lab installs a new Agilent 6546 Q-TOF UPLC/MS system.
March 2020
SL speaks at FLoHet 2020 in Gaineville.
February 2020
Postdoctoral scholar Dr Annika Jagels joins us to work on NSF project on fungal natural products!
November 2019
Zoe defends her PhD thesis and will join the Leosgen Lab in January 2020 as staff scientist! Congrats!
September 2019
The Loesgen Lab moves to the University of Florida Whitney Laboratory for Marine Bioscience
July 2019
Gisela successfully defended her MS thesis! Congrats!
July 2019
Two publications out! Congrats Ross, and Donovon! Thanks to all co-authors!
June 2019
Sandra speaks at the Cope Scholar symposium to honor Prof. Tom Maimone, Berkeley. Congrats Tom!
May 2019
Sandra was awarded tenure at Oregon State University and the University of Florida.
May 2019
Sandra receives a Novo Nordisk Travel Award to speak at the Copenhagen Bioscience Conference.
Summer 2018
Sandra speaks at American Society of Pharmacognosy (Lexington, KY), Gordon Research Conference for Natural Products and Bioactive Compounds (Andover, NH), and the 3rd European Conference on Natural Products (Frankfurt, Germany).
June 2018
Our joint paper with the Bormann lab has been published. Congrats Birte.