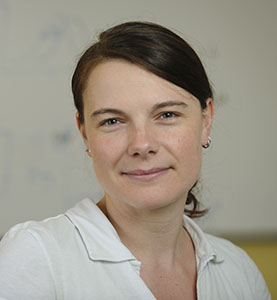 Dr. Sandra Losgen
Assistant Professor
sandra.loesgen@oregonstate.edu
Department of Chemistry
Oregon State University
Gilbert Hall, Room 333
Corvallis, OR 97331-2902
USA
Biographic Information
Dr. Sandra Loesgen is an Assistant Professor in the Department of Chemistry, and is supported by the Terence Bradshaw endowment.
Dr. Loesgen obtained her Ph.D in Organic Chemistry and Pharmacology summa cum laude from Göttingen University in Germany. During this period, she examined the bioactive compounds produced by endophytic fungi in Prof. Axel Zeeck's group and worked towards a synthetic glycosylation strategy for the cytotoxic compound mensacarcin. She subsequently received a DFG postdoctoral fellowship to identify and characterize novel compounds with anti-tumor activity from the metabolites of marine bacteria in the laboratory of Dr. Fenical at Scripps Institution of Oceanography/UCSD. She then received an intramural research award to work with Dr. Carole Bewley at the Laboratory of Bioorganic Chemistry at the NIH, where she studied the interaction of antiviral compounds with their target proteins. She is now an assistant professor at Oregon State University, where her laboratory uses natural products chemistry and structural biology to develop novel antiviral and antimicrobial drug leads.
Dr. Loesgen enjoys working with undergraduate and graduate students that are interested in drug discovery. She is passionate about creating a lab environment where students can thrive personally and professionally.
Outside of the lab, Sandra enjoys sports (especially volleyball), music, traveling, exotic foods, and spending time with her friends and family.
Courses Taught at OSU
CH435/535: "Structure Determination by Spectroscopic Methods"
CH637: "Selected Topics in Organic Chemistry: Chemical Biology"
CH633: "Hypothesis, Evidence, & Argument in Organic Chemistry"