About the Loesgen Lab
The Loesgen Lab uses a variety of state-of-the-art techniques to identify and develop drug leads from the metabolic products of microbial organisms, with a special emphasis on endophytic fungi and rare actinomycetes. Our research program currently focuses on the discovery of new anticancer, antimicrobial, and antiviral compounds from microbial sources.
Our multidisciplinary approach to biomedical research brings together students and researchers from diverse backgrounds, including pharmaceutical sciences, chemistry, biochemistry, molecular biology, and microbiology.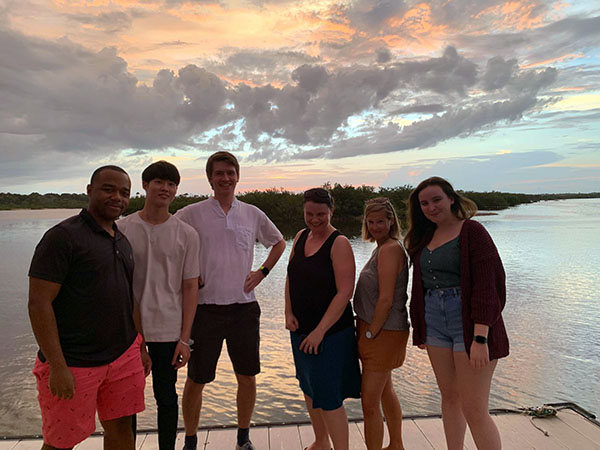 Summer 2018
Sandra speaks at American Society of Pharmacognosy (Lexington, KY), Gordon Research Conference for Natural Products and Bioactive Compounds (Andover, NH), and the 3rd European Conference on Natural Products (Frankfurt, Germany).
June 2018
Our joint paper with the Bormann lab has been published. Congrats Birte.
June 2018
Donovon successfully defended his Ph.D. thesis - Congrats and all the best at Merck in Boston!
May 2018
Birte's Bio protocol article has been published!
May 2018
NSF funds our proposal: New tools to Access the Fungal Metabolome and its Ecological Function"
April 2018
Our joint paper with the Weis lab has been published. Congrats Paige and Donovon.
March 2018
Sandra gives a seminar at the Marine Natural Product Gordon Conference
March 2018
Mahsa joins the Loesgen lab. Welcome Mahsa
March 2018
Loesgen Lab presents at the 2018 Volcano Conference and the Oregon Academy of Science meeting.
January 2018
UG Jason joins the lab with an URSA ENGAGE Stipend. UG Anabel joins the lab as OSU STEM scholar. Welcome!
January 2018
Mensacarcin in the news:
OPB
October 2017
Mensacarcin is published in JBC. Congrats Birte and Elizabeth.
August 2017
ASP meeting ended after a successful week in Portland. Great job hosting the meeting, Loesgen Lab.
May 2017
Sandra Loesgen gives a seminar at the Goethe University in Frankfurt
March 2017
Sandra Loesgen gives an invited seminar at the 3rd Natural Products Fusion-Conference, Cancun Mexico.